PLAY RIFT WITH YOUR FRIEND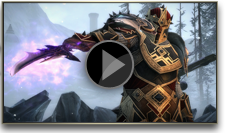 New and Returning Players
No Time Limit
No Credit Card Required
Wages of Loyalty
You will receive these special rewards for answering your friend's call:
Novitiate's Phylactery - A trinket that increases all experience gained by 5% until level 20!
Special in-game title: "The Chosen"
You and your friend will be linked forever, able to teleport to one another's locations once every thirty minutes.
You and your friend will have all of each other's characters automatically entered in your Friends Lists.