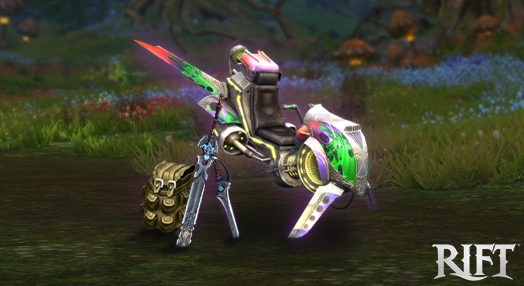 RIFT Intermediate Pack
Take the next step in your adventures! This pack is perfect for players looking to dive deep into RIFT, offering awesome bonuses to help you on your way, including a rad new mount, Ascended weapons, a gargantuan 40-slot bag, 30 days of Patron, and more.
INCLUDES:
30 Days of Patron Time
Drakcoon's Rad Rider
Ascended Weapon
Packmaster's Perfect Planar Pouch of Plentiful Packets
Packmaster's Reward Cache
Digital Downloads Terms and Conditions
Digital download is a software-only purchase; Trion will not send you anything. This software will need to be downloaded to your computer, but no physical box, discs, or other materials will be provided to you. You must have this software for each account on which you wish it to be enabled; you must download the game's files to each machine on which you wish to play this game. The download and use of this game is subject to the End User License Agreement, Terms of Use , and Privacy Policy.
This is an Internet-only game which requires players to connect to Trion servers via their own Internet connections. Players are responsible for their own Internet connection service and all Internet-related fees. A valid credit card is required to play this game and additional, recurring subscription fees apply. Trion Worlds does not ensure continuous or error-free access, use, or availability of any game content, feature, gameplay, or server and may change, modify, disable, suspend, or remove any such content, feature, gameplay, or server at its sole discretion.